The Rollcage Medic website is for doctors, nurses, paramedics and other motorsport rescue professionals.

The aims of the Rollcage Medic website are:

To promote connection and exchange amongst the motor sport medical and rescue community.
To provide up to date information on clinical, technical and regulatory developments in motor sports, especially where they affect medical and rescue services.
To provide a forum for the discussion of opinions, raising questions and sharing experience between individuals and groups with an active interest in motor sports medicine and rescue.

Though based in Australia, motor sport agencies and individuals with an interest in motorsport medicine from anywhere are welcome to join in.
If you want to send me something that you think is useful, important or just interesting, e-mail it to me at rollcagemedic@gmail.com

The Rollcage Medic site is designed, authored and maintained by Matthew Mac Partlin, an Irish medical graduate who is an intensive care and emergency medicine specialist based in Sydney, NSW, Australia.
He has been involved in motor sports medicine for over 15 years. He is currently the deputy chief medical officer with Rally Australia, a medical representative on the CAMS National Medical Advisory Council and chief medical assessor for Speedway Australia.
Matthew is also one of the founders and authors of the
Intensive Care Network
website.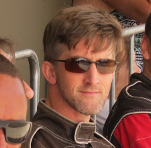 Disclaimer
The reader is permitted to make use of the material contained on this site in a responsible manner. The work contained on this site is licensed under a Creative Commons Attribution-Share Alike 4.0 International License, which covers text, images, audio and video content.
However, please be aware that none of the material, or links, presented on this site constitutes medical advice and does not imply a therapeutic relationship nor duty of care. Any statements made on this site are solely the opinion of the person making the statement and do not necessarily reflect general opinion nor official guidelines. Neither do the views expressed on this blog and web­site necessarily have a rela­tion to those of any academic, hospital, practice, agency or other insti­tu­tion with which the author may be affiliated.
The contributors to the Rollcage Medic site take no responsibility for outcomes that result from the application of any statement made on this site, as individual cases may differ for subtle reasons. If the reader or any other per­son has a med­ical con­cern, he or she should con­sult with an appropriately licensed physi­cian or other health care worker.