Rollcage Medic is a site for doctors, nurses, paramedics and other rescue professionals who provide services for motor sport events. Its aims are to promote networking, share experience and enhance the practice of medicine and rescue at motorsport events.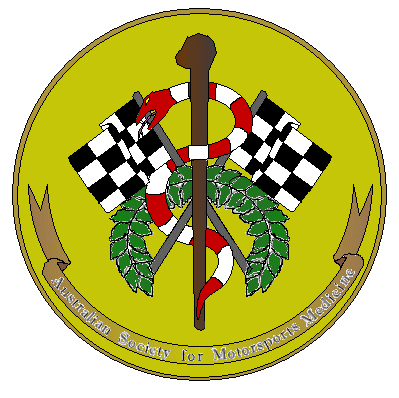 01/12/2015: The ICMS is hosting its annual medical conference in Indianapolis in a little over a week. Find out more here with conference conveynor Dan Marin.

-

18/11/2015: Pearls from FOAMed for motorsport medics featuring @PulmCrit on Investigational Bias in the literature and Deborah Stein from @shocktrauma discussing REBOA. Read more here...

-

09/11/2015: The ILCOR resucitation guidelines have been updated and released. Are they relevant to motorsports? Read here and decide..

-

22/10/2015: NODESAT ApOX - What's in it for motorsport medics? Find out here.

-

21/10/2015: The second edition of "Medicine in Motorsport" is out and it has been released as a free-to-download app. The details are here.

-

23/09/2015: I've added a stack of photos from the past few years for your visual and cognitive enjoyment. They are on the Photo Gallery.

-

18/09/2015: Ever wondered about that voice over the radio relaying the messages between race control and the different medical personnel. Well wonder no more. Don DiGiglio soothes our ears and explains it all on the latest podcast - The Medical Communicator.

-

04/09/2015: Are you a competitor, team chief or medic who has had experience with concussion in motorsport? Contribute to the growing information through this FIA Institute concussion survey.

-

04/09/2015: So now I'm on the editorial board for the FIA Institute's AUTO+Medical publication. Find out more here...

-

17/07/2015: SMACC 2015, held in Chicago, was great. Find out more here: SMACC 2015 - Chicago

-

06/07/2015: Dr John Hinds: anaesthetist, intensivist, pre-hospitalist and motorsport doctor - R.I.P. A tribute

-

08/05/2015: There's a good review article on concussion in the April 2015 edition of Seminars in Neurology, which is freely available on Medscape. Read the details here.

-

01/05/2015: Ever had a patient at the trackside that you thought was all but dead and yet later on the receiving hospital contacts you to say that no injury was found and the patient was extubated shortly afterwards and examined normally? Maybe the patient had Impact Brain Apnoea Syndrome. Find out more here.